Whole-grain spaghetti with broccoli, pumpkin and blue cheese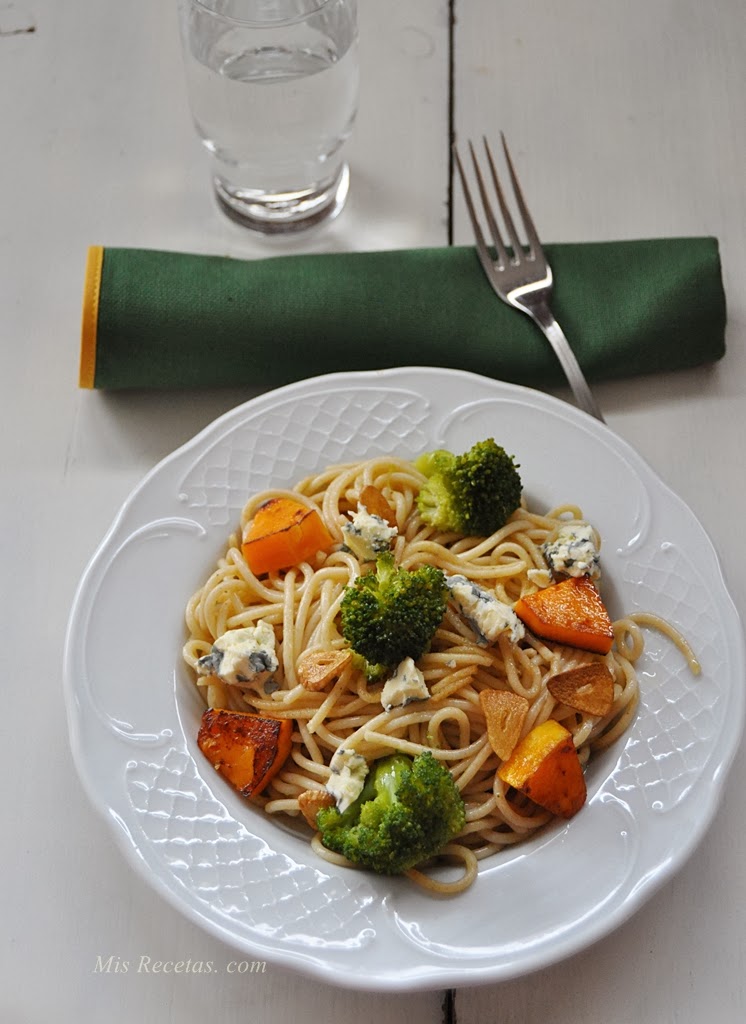 In a healthy and balanced diet we can not forget one of the most complete and recommended foods:
Pasta ​​b>.

Today is one of the most typical and appreciated foods of the Mediterranean diet. Its preservation capacity, its easy preparation and the large number of dishes that we can make with it contribute to this, since it combines perfectly with a multitude of ingredients, which allows us to prepare it as a starter, garnish or a unique dish, in soup, in salad, and even as a dessert ...
It is recommended to consume it at least once a week, alternating it with vegetables and rice dishes.

Today's recipe, besides being a very healthy way to eat pasta and vegetables, I have to tell you that it is delicious, so I encourage you to prepare it in this way. But if you are one of those that you like with salsa, in the end I indicate how to make a rich sauce, with few calories and what is great about this dish.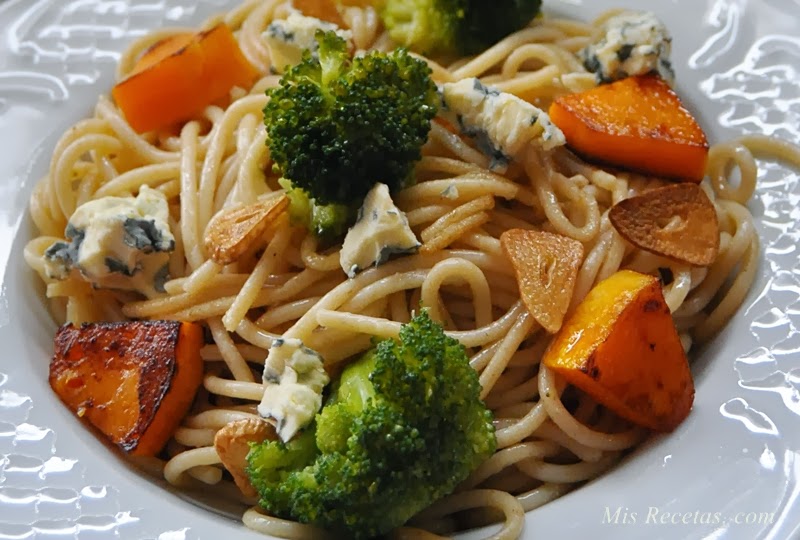 INGREDIENTS:
350 gr of whole spaghetti
500 gr of broccoli or broccoli
250 gr of pumpkin (without skin)
100 gr of blue cheese
2 or 3 cloves of garlic
2 tablespoons of olive oil
salt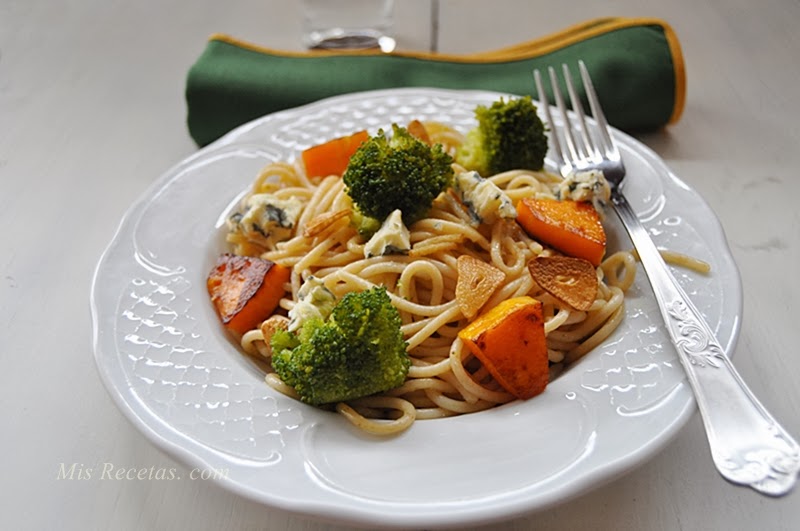 DEVELOPMENT:

Boil spaghetti in plenty of salted water until al dente. We drain and cool with cold water to stop cooking. We drain them again and reserve.

We remove the thick broccoli trunk and separate it into small twigs. We cook them for about 7 minutes in salted water. We drain very well and we reserve.

We remove the skin and the pips to the pumpkin. We chop it into small squares and put them in a flat glass dish or any other suitable for the microwave. Slightly sauté the pieces of pumpkin, cover and cook for 4 minutes in the microwave at maximum power. We check the degree of cooking in case you need more cooking. We reserve.
Peel the garlic cloves and cut them into thin slices. Heat the oil in a pan and fry until golden brown. Remove the slices and reserve.

In that same oil , add the spaghetti and sauté them. We take them out of the pan and serve them on the plates.
Then we sauté the broccoli and the pieces of pumpkin. We spread on the spaghetti.
We distribute the fried garlic slices through the plates and crumble the blue cheese, incorporating it to the rest of the dish.

We serve immediately.

NOTES:

To make this dish you can also use macaroni noodles, fettuccine ...

The quantities of broccoli and pumpkin are indicative, as you wish to put more or less of one or the other.

If you like that your dishes take sauce you can make a warming 200ml of evaporated milk and melting blue cheese in it, stir well, salt and pepper the mixture of pasta and vegetables with it.


Source: Adaptation Magazine Readings